Members
---
Steve (Dawgeye) Meilleur
"Dawg" – Originally from NY, co-founder of Black Smoke, Steve (Dawgeye) Meilleur, has been playing since the late '60s. Performing blues, blues-rock, jazz, country… blues and blue grass, his impeccable talent brings a unique style to the band. He's opened for Muddy Waters, Johnny Winter, Sonny Terry & Brownie McGhee; played with John Hammond Jr., Doug Kershaw, Dr. John, and the Infamous String Dusters. Musical influences include Muddy Waters, Paul Butterfield, Peter Green, Charlie Musselwhite, Grateful Dead, Siegel-Schwall, acoustic Hot Tuna, Buddy Guy and the list goes on.
---
Steve, (4 String,) Douglas
"4-String" – Born in Chicago, Steve, (4 String,) Douglas has been playing bass for 12 years. His sweet sound and subtle groove adds the perfect compliment to Black Smoke. Co-founder of the band and influenced by greats, such as, Tommy Shannon, Carl Radle, Jack Bruce, James Dewar and Donald "Duck" Dunn, Steve's licks definitely carry the rhythm with style and precision.
---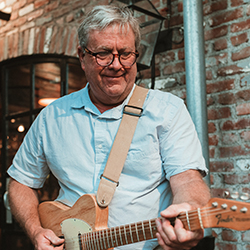 Bob Cook
Bob Cook, originally from Ohio, has been playing for more than 40 years. His smooth, yet gritty style, is impressive to say the least. Influences such as, Peter Green, Mike Bloomfield, Duane Allman, as well as, anyone who plays an instrument, have helped shape his style and love for music. A humble monster on the guitar, song writer, and all around pleasant guy to be around, Bob is a great addition to Black Smoke.
---
Casey Lafferty
Born in Kansas, Casey, has always been connected to music. She grew up singing in church, the daughter of a preacher who was also a musician, surrounded by an entire family of musicians, singers, and songwriters. Influenced by jazz and blues legends such as, Ella Fitzgerald, Etta James, and Billie Holiday.
---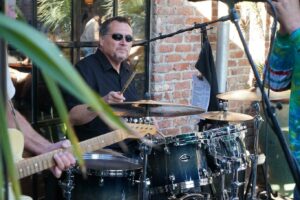 Mike Caldwell
Mike has been playing drums for more than 50 years. Born and raised in Southern California Mike always dreamed of being a professional musician. Growing up near the LA area he was drawn to the club and music scene. Cutting his teeth playing with many bands throughout the year's. Some dreams were realized playing with the Christian Rock Band Sojourner. Where the band played many of LA's top clubs The Troubadour, The Roxy, Resedas Country Club and many more. Has had the opportunity to record with Saxophonist Dalton Hagler and The Nighthawks Blues Band featuring Rex Reece. Has played live with Peaches and Herb and The Drew Sterchi Blues Band at the Chattanooga River bend festival and the Nashville Guitar Expo. Living now in Albuquerque He enjoys playing good music with good friends.
---
Influences
Robert Johnson to Muddy Waters; Charlie Musselwhite to Koko Taylor; Peter Green to John Hammond Jr.; Gary Moore to Allman Brothers; Canned Heat to Jimmy Reed; B…onnie Raitt to Eddie Boyd; Grateful Dead to ZZ Top; Buddy Guy to Joe Bonamassa; Butterfield to Magic Slim; Jim Morrison to Bessie Smith; Paul Reddick to the Nighthawks, and more.