Members
---
Steve (Dawgeye) Meilleur
"Dawg" – Originally from NY, co-founder of Black Smoke, Steve (Dawgeye) Meilleur, has been playing since the late '60s. Performing blues, blues-rock, jazz, country… blues and blue grass, his impeccable talent brings a unique style to the band. He's opened for Muddy Waters, Johnny Winter, Sonny Terry & Brownie McGhee; played with John Hammond Jr., Doug Kershaw, Dr. John, and the Infamous String Dusters. Musical influences include Muddy Waters, Paul Butterfield, Peter Green, Charlie Musselwhite, Grateful Dead, Siegel-Schwall, acoustic Hot Tuna, Buddy Guy and the list goes on.
---
Steve, (4 String,) Douglas
"4-String" – Born in Chicago, Steve, (4 String,) Douglas has been playing bass for 12 years. His sweet sound and subtle groove adds the perfect compliment to Black Smoke. Co-founder of the band and influenced by greats, such as, Tommy Shannon, Carl Radle, Jack Bruce, James Dewar and Donald "Duck" Dunn, Steve's licks definitely carry the rhythm with style and precision.
---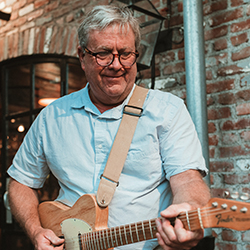 Bob Cook
Bob Cook, originally from Ohio, has been playing for more than 40 years. His smooth, yet gritty style, is impressive to say the least. Influences such as, Peter Green, Mike Bloomfield, Duane Allman, as well as, anyone who plays an instrument, have helped shape his style and love for music. A humble monster on the guitar, song writer, and all around pleasant guy to be around, Bob is a great addition to Black Smoke.
---
David Chavez
Keyboards, lead guitar, vocals, accordion, melodica, percussion, etc. As a local performer for over 40 yrs., David has also done roadwork in most states west of the Mississippi, and traveled to Europe, Asia, the Caribbean, Mexico and Canada. All genres of music covered, but loves blues, soul, R&B, classic rock and jazz the best……Has played sideman with the likes of Bo Diddley, the Coasters, the Platters, Kenny Sweet (the Drifters), Tito Puente, Norma Frazier (from Jamaica, reggae) Toby Keith and Willie Nelson (in movie "Beer For My Horses) and focuses on composing, arranging, and orchestrating original and copy music. Also worked as keyboardist and bandleader of Legendary Superstars impersonator shows at Santa Ana Star Casino. In the late 90's thru 2012, he led his own blues/rock band the "Hiphuggers" (opening act for Eric Burden & the Animals) in and around the New Mexico area.
---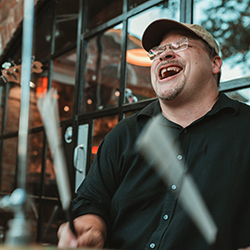 Steve (Trapper Steve) Delasantos
A self-taught drummer, Steve has been playing since the age of 10. His love of music and rhythm stem from his Grandfather who played the club circuit in Hawaii.  Cutting his teeth on good ol classic rock, Steve started playing professionally up in the Northern California area (Sonoma County) often running 3 hours each way to a gig that paid $43. From there he relocated to Colorado where he was introduced to the country genre of drumming and became quite fond of it. Steve now resides in New Mexico where he has played since 2005 with some of the best around. Currently he plays and sings for The Black smoke Blues Band – a goup of posers who think they're all that and a bag of chips but really just like drinking beer and having fun!
---
Influences
Robert Johnson to Muddy Waters; Charlie Musselwhite to Koko Taylor; Peter Green to John Hammond Jr.; Gary Moore to Allman Brothers; Canned Heat to Jimmy Reed; B…onnie Raitt to Eddie Boyd; Grateful Dead to ZZ Top; Buddy Guy to Joe Bonamassa; Butterfield to Magic Slim; Jim Morrison to Bessie Smith; Paul Reddick to the Nighthawks, and more.